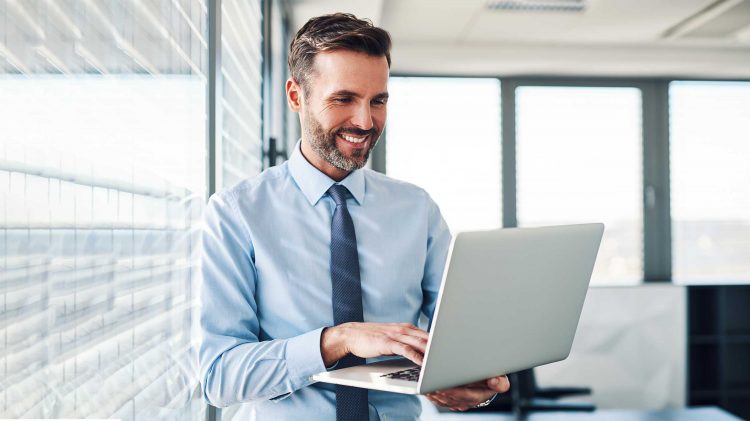 How to create an Employer account on SDS-Jobs.com in 5 Easy Steps
10/09/2021
Are you a startup, SME, or a global industry leader within the Space & Defence industry looking to strengthen your team with great talent? And are you ready to start taking advantage of our hiring platform in order to do so? Signing up on SDS-Jobs is easy and can be done in 5 easy steps!
Step 1: Get started with creating your company account
Go to the For Employers page on the website and enter your Company name (1), Email address (2), and Password (3). Agree to the Terms of Use and Privacy Statement and then click on the 'Get started' button.
Step 2: Give more details about your company
Fill out the missing fields in your Account details section and complete your Company Profile. You will need your Hiring Manager's name (1) and Job Title (2), your Company's Logo (3) to upload (200 x 200 pixels is recommended for optimal result), the link to your Company's Website (4), and the Sector/Industry (5) (dropdown list is provided) your company belongs to. Then you need to specify your Company Size (6) (dropdown list is provided) and a Short (7) and Long Description (8) for your company.
Our tip: most companies take the descriptions from the 'About Us' section on their company website, from their LinkedIn company profile or their Glassdoor page.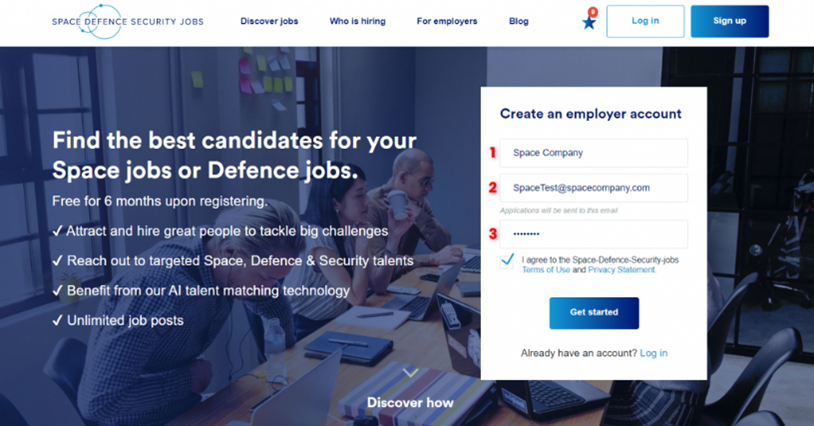 Step 3: Choose a package that fits your goals the
Choose a package when you are ready to receive more applications from top talent. When you have chosen a package you are ready for the next step.
Job Packages: Starter and Bundles
With our starter and, bundles 5, 10, 25, and 50 you can highlight your most important vacancies on our platform. The job postings will be visible on our front page as well as our landing pages. Next to this, your company will get a dedicated company page which we can further promote and share on our social media.
The most popular packages are the 25, and 50 job pack because these allow your company to have even more exposure on our website, with a larger amount of job postings displayed in one go. With that visibility comes many more top applications!
The jobs will also be included in our weekly job alerts. This will make sure that the jobs you post will reach our large audience of active and passive job seekers.

Premium Packages: Enterprise and Platinum
The premium package is the best package for companies who really want to stand out on our platform. This package is the best option for large corporates or growing start-ups that want a lot of exposure, so they can attract the most qualified talent and also show off their company as an industry leader or professional thought leader. The premium packages allows you to post 100 jobs or unlimited vacancies.
With this package, your company will get a dedicated company page which we will further promote and share on social media.
The jobs will also be included in our weekly job alerts. This will make sure that the jobs you post will reach out to our large audience of active and passive job seekers.
Next to this, we will do a LinkedIn campaign that will target all the relevant professionals in your target group. Included in the target group are people with the niche expertise your company is looking for. This way all the relevant people will see your vacancy in their LinkedIn feed when the campaign is active.
You will also receive a VIP interview on our blog where we bring your company into the spotlight and share all your great values and benefits with our readers. We can get someone from your company that is an experienced professional / industry leader and let them share his/her expertise about your company by answering a Q&A in a written interview. We will prepare everything and help you promote your great company branding and culture this way.
These packages also include guest blog articles written by us which we will publish on our platform for more exposure. This article will also help generate traffic via search machines. We will work together on this article to find the most suitable topic and content for your business. This is a great way to increase your brand's exposure.
Lastly, we will also give you a personalised company dashboard. With this you can track all the activity happening on your company page and jobs and make sure nothing gets missed.
Once you have chosen a package, please note that it is valid for one year.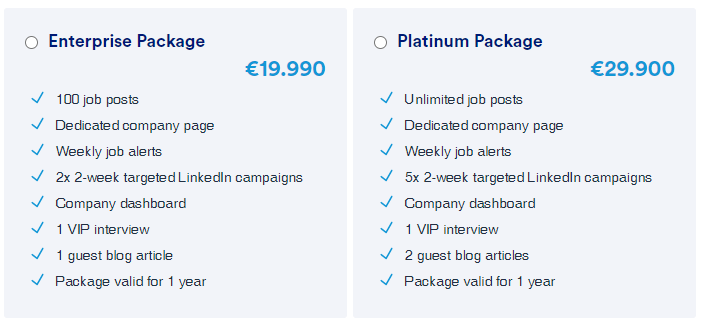 Step 4 Choosing an account type
There are two account types. The two account types will help you fit our recruitment platform to your recruitment funnel.
Applications via SDS-Jobs:
When you use this account type our users can apply with two clicks to your jobs on our website. This is a great and easy way for website visitors to apply, and in theory would generate more applicants because our users don't have to leave our website to apply to your vacancies. With this account type you will be notified about the candidates that are interested in a vacancy directly via an email to your mailbox.
Application via your website:
If you want to manage applications yourself and have the process of applying fully in the hands of your company this account type is for you. When candidates are interested in a vacancy, they will be directed to apply on your own recruitment website or via your ATS.

Step 5: Choose extra options to increase your applications
Next to the packages we have discussed in step 3, we can also help you with some extra options to increase your applications even further. You can order these options after you have created your account in your account dashboard. You can order them on top of your chosen package. These extra options are:
2-week targeted LinkedIn job campaign
3-week targeted LinkedIn branding campaign
Guest blog article
VIP interview
2-week targeted LinkedIn job campaign
The 2 week LinkedIn job campaign is a great way to connect with the relevant audience on LinkedIn. This is a perfect way to increase your company branding and get in touch with more talent that can be interested in your vacancies. Not only do we post the job ad, but we will also promote it on the timeline of qualified people. It is a great way to advertise your vacancy to active and passive audience in the area of expertise that you are looking for. This makes sure you will reach out to a highly relevant talent pools and get more qualified candidates applying to your vacancy.
3-week targeted LinkedIn branding campaign
This campaign is all about your brand as an employer. We will promote your brand messaging in the area that you are looking for to attract the right talent. This is an excellent way to put your organisation on the map as a great employer. The campaign will be targeted to people that work in the expertise fields you are looking for. The campaign will give awareness about your company culture, work, benefits, and the life people can enjoy when they join your organisation.
Guest blog article
The guest blog article will promote your company culture and your employer branding. The content we will publish is completely based on your choice and can be adapted to the topic you are looking for. A blog article can give more exposure than a simple job post, because it builds credibility around your company culture.
VIP interview
The VIP interview will give one of your employers a way to promote your company culture, values, and brand. The interviewer will be connected to the area of expertise you are looking. For example, we can connect them to promote your employer branding around the salary & benefits, working environment, company culture, diversity & inclusion, attrition, or overall happiness of working for your organisation. This gives a great impression on candidates as people value work references more than anything else.

Get started
If you have any questions regarding our packages, or the way we work please do not hesitate to contact us. We would be happy to answer all your questions. You can send an email to sds-team@ai-recruiting.com.